Our Services
Sensual Shibari Bondage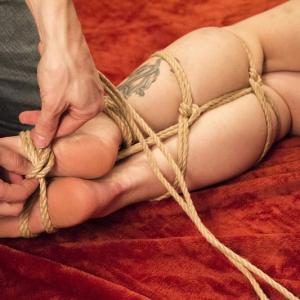 Plunge into a relaxing and simultaneously fascinating world beyond Yoga etc. Experience something absolutely new, which will broaden your horizon. Let yourself be guided through a world, where you can relax for a few minutes and leave your everyday life behind. It is a dance of two people on the (tight)rope, which is about leading and following. Try to give up control and let go. The aim of this experience is a deep relaxation you won't find in most other experiences. It does neither hurt nor do you have to strip. Is it worth a try for you? Feel free to bring somebody along.
This offer is primarily for individuals and small groups.
Group workshops
Rigging workshops are available for groups of at least 4-6 people. Beginners' workshops are for those, who have not yet gathered any experience with rigging. It is no problem for us to start from scratch.
Basic knowledge will be mediated for
Safety
Knot craft and easy rope tricks
Utilisation in the context of Sensual Shibari
Variations
Details
.
Stage shows and performances
We love to travel. Don't hesitate to contact us with an enquiry if you want us to be in your town (or country for that matter) for a live performance as part of a soiree or a party. We need a safe rigging point (a frame, a tree…) for the suspension program. If this is not given, we can still perform on the ground.
Try it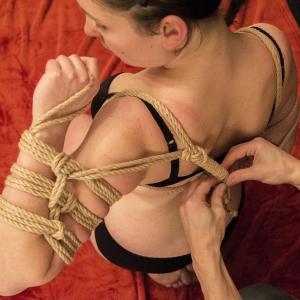 Did we arouse your interest with one of our offers? Then don't hesitate to contact us. You can just suggest a fee, because we are all doing it for the fun of it. I am sure will come up with a deal.
Don't forget to bring your friends as well. The movement lives from people talking about it, friends sharing it and just having a good time together.
Photoshooting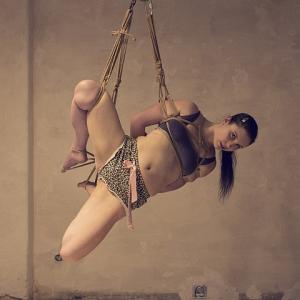 You can imagine yourself taking artistic, bondage-themed pictures? You like tying people up and want to use those pictures privately? In that case the whole thing is free of charge, considering your effort you might even be able to make some extra money.
Other sources/workshops/teachers
See this list for further info on other teachers and recommendations in Berlin. The announcement contains the headline Personal recommendation of the BondageBunchBerlin. You might have to click on "show details/more" here to reveal all content.
As for other places and events, see also
IKSK, specifically their weekly Rope Jam on Tuesdays